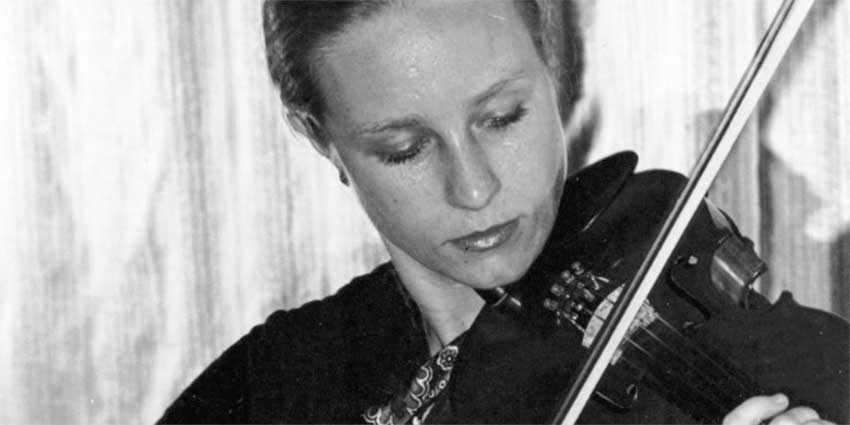 Vicki Richards – a Unique Violinist, Musician, and Educator.
Vicki Richards' musical history spans more than 4 decades and crosses many international and musical time lines. Her classical training & degree, professional orchestral playing in Miami, RI, Switzerland and in NYC, paired with electric fusion in the 1970s & 1980s led her to yet another form of classical music, that of North India.
The rich tradition of North Indian Raga gave her the guidelines and knowledge to draw from within, instead of from the "black dots on a page" (sheet music), to create melodies and aural landscapes. She was recipient of grants from the AIIS and Smithsonian and has performed in Carnegie Recital Hall & India.
Vicki's 5 solo recordings received many glowing reviews and her musical style and recordings are included in several books and articles on the evolution of improvised music & alternative styles. Recordings, performances and collaborations listings are on this site.
As with most artists, she doesn't work in a vacuum and is inspired by playing with great musicians: Bobby Thomas Jr, Amitava Chatterjee, Layne Redmond, Jorge Alfano, Steve Roach, Projekt Label's Black Tape for A Blue Girl, Steve Gorn, Pandit Sharda Sahai, Dr. N. Rajam, Sri Amarnath Misra,  Dale Andree, Paul McCandless, Jeff Deen, Satoshi Takeshi, Frank Carmelitano, Enrique Gardano, Sharron Rose Widner,Nervous City Orchestra, Kripalu's KDZ ensemble
With many collaborators including Jorge Alfano & Jeff Deen they have performed at venues from concert stages to ashrams and recording their music.
For decades Ms Richards gave lectures & workshops, performing, translating and demystifying the improvisational system of North Indian Classical Music for Universities, Music camps and schools such as Strings Without Boundaries, Mark O'Connor's String Conference and the American String Teacher's Annual Conferences, Alternative Section. She also introduced students and audiences to electric violin playing and her fusion style woven in threads from East & West.
Ms Richards' experiences of the healing and deep impact of vibrations/music, on many levels, have had great impact on the creative process & direction of her music. Vicki's current ensembles, recordings & performances have been focused on expressions of joy, healing and energy.
Ms Richards 2009 project, "Cleansing Waters, Pura Vida", is a healing visualization with ambient, inspiring instrumental music. It is useful to people going through chemotherapy and recovery from illness.